Data Control - Financial Messaging and Connectivity
Simplify data connectivity and transformation
Built on our powerful ISO-standard messaging industry utility. Standardize and manage message types for payments, cash, commodities, securities, trade finance, and more. Manage it all, from non-ISO to ISO-standard connectivity with counterparties, and harmonize messaging across a wide variety of sources and platforms.
STANDARDIZE DATA ACROSS ANY SYSTEM OR PROCESS
In a world of disparate systems, you need to fill the gap between multiple applications. Be certain with Broadridge Data Control Financial Messaging and Connectivity. Our message transformation solution enables you to structure, manage and format data to your operational and regulatory requirements. Don't inject unnecessary risk into the data life cycle. Get reliable, accurate transaction transformation and be certain at every step—now and in the future.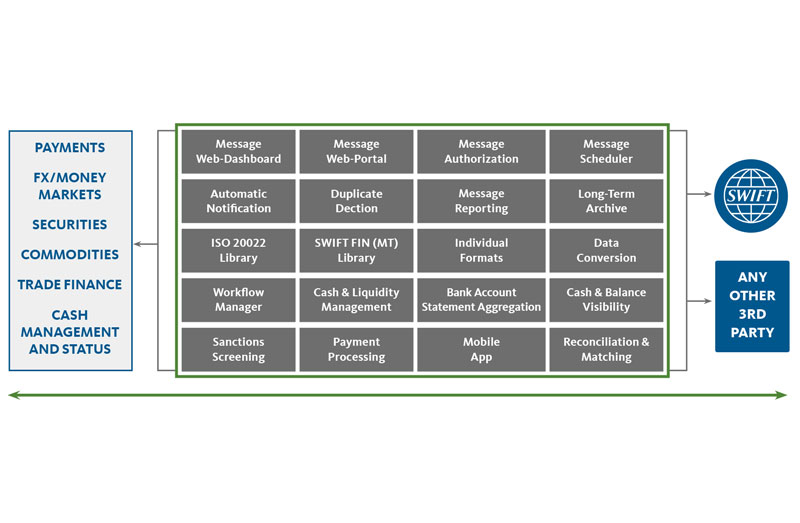 CONTROL MEANS CONFIDENCE
Transform data into a wide array of standardized formats (SWIFT, EBICS, ISO 20022)
Unify internal and external financial messaging
Outsource connectivity to and from third parties
Reduce operational risk across your entire business
Gain greater flexibility with our agnostic data management processes
More info: https://www.broadridge.com/financial-services/capital-markets/enhance-accuracy-and-visibility-across-the-entire-data-life-cycle/data-control-messaging-and-connectivity
Product and service specifications
| | |
| --- | --- |
| Charging basis for consultancy work | • N/A |
| Database | • N/A |
| Language used | • N/A |
| Operating system | • N/A |
| Pricing structure | • N/A |
| User interface | • N/A |
Tags:
SWIFT, Finmap, messaging, inter-bank messaging, EBICs, ISO 20022
Similar products/services