Data Control - Intelligent Automation
Harness AI to enhance reconciliation matching and exception resolution
TAKE CONTROL OF RECONCILIATION OPERATIONS
Even the best reconciliation platforms require significant human intervention to build models, investigate errors and resolve exceptions. Now you can enhance reconciliations and accelerate break-management processes with Broadridge Data Control Intelligent Automation. Artificial Intelligence (AI)-driven algorithms automatically boost performance at every step.
Build and create matching schemes based on historical data.
Perform high-speed data matching.
Identify and classify matching breaks.
Improve matching schemes based on daily activity.
Suggest the most efficient exception resolution.
MANAGE MULTI-VENDOR WORKFLOWS
Our agnostic solution adds a new layer of enhancement across any reconciliation system, platform or workflow—regardless of vendor. Intelligent Automation is built on a state-of-the-art distributed computing cluster using technologies designed to process huge amounts of data. Scale faster with on-premise,
cloud-based or Broadridge-hosted deployment options.

A PLATFORM DESIGNED FOR BUSINESS USERS
Give business users full control over the process via an intuitive, simplified user interface. Unlike the black-box models employed by other platforms, we make it easy to monitor, create, revise and approve matching and resolution schemes. Gain end-to-end visibility into the actions and routing decisions taken by machine learning and customize processes to your specific needs and operational requirements. Our technologies easily integrate with popular reconciliation platforms, so you can scale faster and maximize control across disparate systems and workflows. No need to engage IT for day-to-day changes or oversight.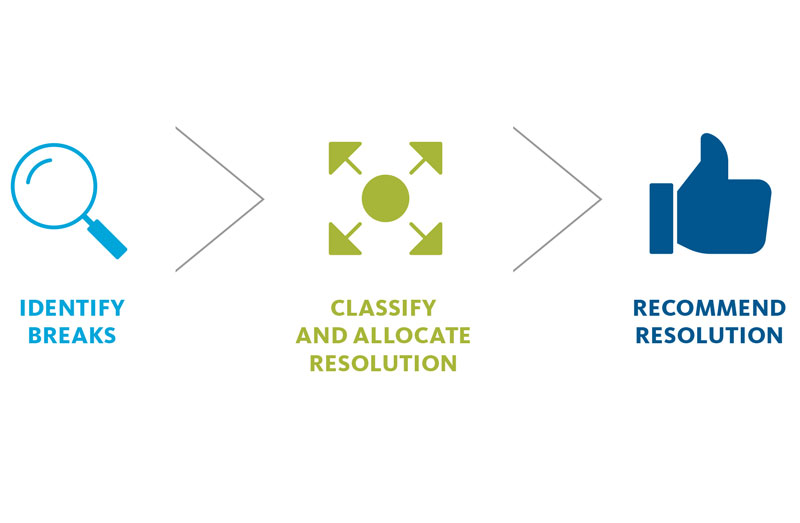 BUILD CONFIDENCE WITH AN ITERATIVE LEARNING MODEL
Machine learning algorithms continuously test, learn, enhance and retest reconciliation models to optimize exception classification and resolution. This iterative, champion/challenger approach automatically yields new, more efficient break-management processes at every step. Your analysts will validate and adopt the best models for your processes, which then become the new champion model—and so on. Gain a new level of confidence after each iteration.
More info: https://www.broadridge.com/financial-services/capital-markets/enhance-accuracy-and-visibility-across-the-entire-data-life-cycle/data-control-intelligent-automation
Product and service specifications
| | |
| --- | --- |
| Charging basis for consultancy work | • N/A |
| Database | • N/A |
| Language used | • N/A |
| Operating system | • N/A |
| Pricing structure | • N/A |
| User interface | • N/A |
Tags:
AI, Artificial intelligence, Machine Learning, Reconciliation, Intelligent Automation