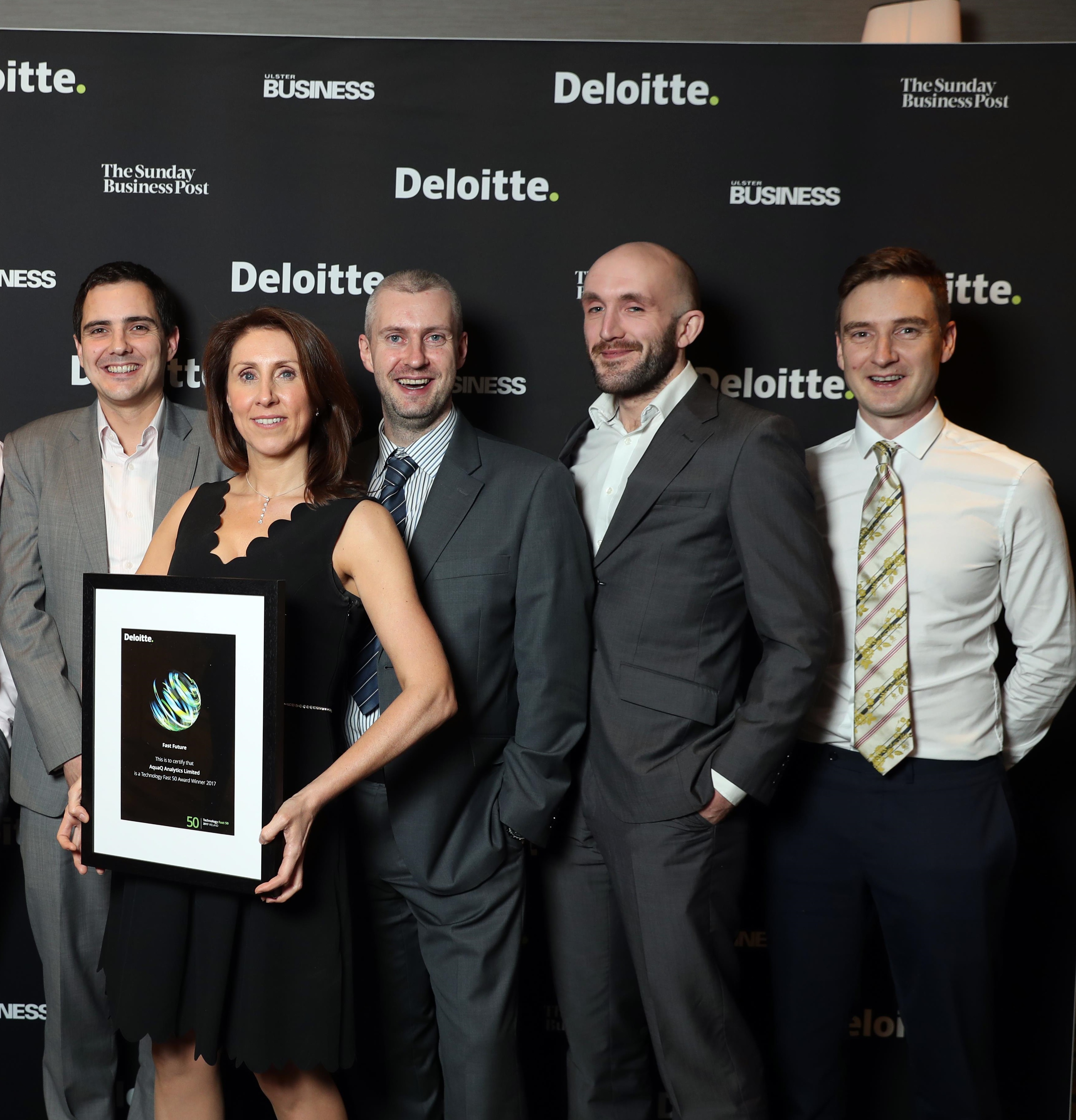 AquaQ Analytics today announced that it ranked number 34 in the 2017 Deloitte Technology Fast 50, a ranking of the 50 fastest growing technology companies in Ireland.
AquaQ Analytics' CEO, Ronan Pairceir commented, "The Northern Ireland tech industry is thriving. Both small and large companies are being well supported to do some really innovative work. Our own AquaQ team works hard to provide clients with a quality, expert service and as we do that, we really value the recognition that comes with something like the Fast 50 ranking."
"Our main business is centred around Big & Fast data analytics and real-time streaming data visualisation for clients. We started out 6 years ago as a pure consultancy play to Investment Banking and Hedge Fund clients. While that business has now grown to 90 consultants globally, we have also started to focus on product development and joint ventures with others, both within and outside of Capital Markets. This includes our open source TorQ Framework for kdb+, our online video training portal for kdb+ (training.aquaq.co.uk), a joint venture in the FX Analytics space with TradeFeedr and our new product AquaQ Vision, which is currently under development. We continue to seek out additional interesting projects, with recent ones under way in the areas of Vehicle Telematics and Utilities. In the past 12 months we have doubled our office space in Belfast, opened up a US subsidiary, and our HK subsidiary in Asia is almost ready to go. We plan to continue our rapid growth well into 2018 and beyond."
The Fast 50 awards, now in their 18th year, rank Ireland's fastest growing technology companies and recognises indigenous technology companies that have demonstrated exceptional growth in turnover in the last four years. The Fast 50 programme is recognised as a barometer of a company's success and provides it with a hugely valued, respected and marketable, public 'badge of honour'.
AquaQ Analytics Limited is a provider of specialist data management, data analytics and data mining services to clients operating within the capital markets and other sectors. The company specialises in kdb+ consultancy, training and support. It also provides the open source AquaQ TorQ Framework for kdb+ to clients and acts as a reseller and professional services partner to Datawatch for their Panopticon Visual Analytics Technology.
Become a bobsguide member to access the following
1. Unrestricted access to bobsguide
2. Send a proposal request
3. Insights delivered daily to your inbox
4. Career development
More Asset Management Systems Company Announcements